When assessing the most appropriate approach to carrying out car window repairs, there are several things our auto glass technicians must take into account. These include the extent to which the car glass has been damaged and where it is located. Our technicians strive to provide the most efficient and economical solutions to our customers and therefore will opt to repair the car window whenever possible. As well as being cheap and easy, car window repairs are more environmentally friendly than car window replacement as less raw materials are required.
Despite striving to provide the most economical, efficient and environmentally friendly solution possible, when it comes to back windscreens, it is most likely that a full rear windscreen replacement will be required. There are several reasons for this, including the fact that rear windscreens are made of toughened glass and often contain heating elements. 
Rear Windscreen Replacement Process
If your back windshield needs to be replaced, rest assured that our technicians will handle the job with ease. There is a process involved in carrying out a rear windscreen replacement. First of all, our technicians will be sure to remove any shattered glass remaining inside the car, before covering the car's interior to ensure its protection during the car window replacement procedure. Once this is completed, it's time to remove the glue which holds the existing back windscreen in place. After this, the technician can carry on with the rest of the rear windscreen replacement process and put in place the new glass. 
Rest assured our technicians use the highest quality bonding materials and are up to date with all of the latest windscreen technologies, so the windscreen replacement will always be carried out to the highest standard possible. The bonding process usually takes about 60 mins to complete. Once the glue has been fully set, your vehicle is once again safe to drive.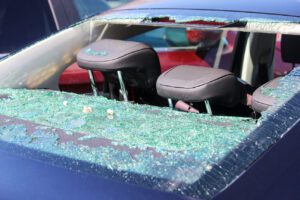 All of our auto glass replacement technicians have been vetted and approved by Windscreen Compare, meaning each and every car glass repair and replacement is carried out by top quality professionals.
How much does a car rear window replacement cost in the UK? 
There are several factors involved in determining how much a car rear window replacement costs in the UK. These include the make, model and year of the car as well as the urgency of which the job needs to be carried out. 
But don't worry, simply fill out our 4 step online form to get your free, no-obligation, instant quote and we'll have your rear windscreen fixed and vehicle back on the road in no time! 
If your rear windscreen is damaged, potentially by a crash or a smash and grab it is most likely that the whole windscreen will need to be replaced as they are made of toughened glass and generally contain heating elements.
Rear Windscreen Insurance Details
We can help speed up your insurance claim by providing you a quote in four simple steps. Just book a rear windscreen replacement online and we can help take care of the insurance claim for you.
Making an insurance claim does not reduce your no claims bonus. We are able to collect payment up front or you can pay a technician directly. Then all you need to do is wait for your money to be reimbursed by the insurance company.
If your insurance policy doesn't cover your vehicle for back windscreen damage or replacement then there is no need to worry. Get a quote today and choose the best rear auto glass replacement service near you!
We stock thousands of different auto rear windows and we will help to replace any make of car or van. If you want the best service, cheapest price and most efficient rear window replacement then Windscreen Compare id here to help.