New Hi-Tech Windscreens are Driving up the Cost of Repairs by 9% in 2021
Windscreen Compare has provided thousands of quotes to our customers over the last 12 months, to help them fix windscreens for every make and model of car under the sun!
By taking a deep-dive into the data we have generated as a result, Windscreen Compare has prepared an intriguing report, that analyzes the costs involved in carrying out windscreen repairs for some of the most popular car makers in the UK. 
Specifically, we have prepared a brief report which provides insight into windscreen repair costs associated with Volkswagen, Ford and Vauxhall – 3 of the top selling auto car makers in the UK.
Volkswagen windscreen repairs are the most pricey.
Our study revealed that of these 3 extremely common vehicles, Volkswagen windscreen repairs are the most expensive costing an average of £220, with the most common repair we saw being Volkswagen Polo.
The cost does vary across different models produced by the automaker, with the most expensive being a current model Volkswagen Touareg, costing up to a staggering £590 in some cases. This price has a lot to do with the integrated windscreen technology that some models have including sensors, cameras and head up displays, meaning that the repair prices are higher among this car maker in general. 
We'll delve into this, and other reasons, a little later.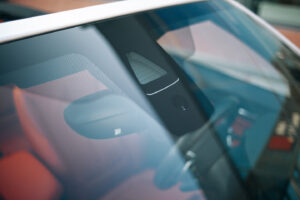 Ford is the most common, and isn't far off it's costly rivals at Volkswagen in terms of price. 
Ford comes in at close second here, with the average windscreen repair costing £190. The most common repair we saw was with the Ford Fiesta, whereas the most expensive appeared to be the Ford Fusion models, specifically the Plug-in Hybrid Titanium. 
Ford was actually our most common overall car maker for which we provided windscreen repair quotations over the last 12 months, making up 22% of overall quotations issued. The majority of new Ford models have heated windscreens, which increases the average cost of repairs when compared to other car makers. 
Vauxhall is the cheapest of the three.
According to our data, Vauxhall windscreen repairs are the cheapest of the 3 coming in at an average of £150. 
However, as these are 3 of the most common and most popular cars on UK roads in terms of volume, levels of supply and demand ensures that the replacement prices for each stay at a relatively consistent level. 
Windscreen tech is driving up prices.
In recent years, the continued evolution of in-car technology has seen more and more features added to newer car models, especially in and around the windscreen area. 
From built in thermal windscreen heaters and parking cameras, to safety sensors and head-up displays, windscreens have continued to become ever-more complex in terms of how the cars are built and operated. 
So of course, a windscreen that features an integrated thermal imaging camera, a night time assistance "night vision" system and a head-up display – such as the aforementioned Volkswagen Touareg – is going to cost considerably more than just a plane ol' pane of glass.
In fact, we have seen a yearly average increase of around 9% in windscreen repair prices across the board, over the past 3 years. 

Volkswagen will cost a pretty penny, but is often higher spec.
From our study, we can see that of Volkswagen models produced in the last 5 years, 40% of them are likely to have at least one advanced feature which will cause an increase in the price of a windscreen repair. 
In comparison, just 25% of Vauxhall windscreens have cost increasing features. 
Older models are cheaper to repair
Given that newer, integrated technology is driving up the price of windscreen repairs, it is apparent that older car models are more often than not, cheaper to repair. 
Older models are less likely to involve the installation of new sensors or cameras, and also less likely to require a windscreen with a specialised coating to enable the projection of a built in HUD. On average, cars more than 5 years old tend to cost approximately 20% cheaper than models produced after that period.